Published technical reports for viewing
Here you will find an overview of publications about us, our products and services. We offer here selected excerpts from the publications of the last few years for viewing in chronologically descending order.
The issues of the respective publications may contain further information. For excerpts from print media, we therefore recommend requesting the original copies from the publishing house.

Technical reports & book publications
Technical reports on electroplating 2023
Technical reports on electroplating 2022
Technical reports on electroplating 2021
Long-Lasting Mobile Devices Thanks to Rhodium

IST, Issue 03/2021, p. 40-41

New ENIG/ENEPIG process with virtual commissioning

PLUS, Issue 07/2021, pp.837-842 (English translation of the German original)

Rhodium alternative for the small scale

Womag, Issue 06/2021, pp.1-2 (Available only in German)

Long-lasting mobile devices thanks to rhodium

JOT, Issue 02/2021, pp. 32-33 (Available only in German)

Application Report: Ball/Wedge wire bonding with gold wire on a Direct Immersion Gold (DIG) surface for printed circuit boards

Source: www.bond-iq.de
Book publications 2020
New, cyanide-free silver alloy electrolyte

Dr. Berger, Sascha / Dr. Blumenstein, Nina
Yearbook Surface Technology, Vol 76, Edited by Prof. Dr. Timo Sörgel, Leuze-Verlag 2020, pp. 285 - 297 (Available only in German)
Technical reports on electroplating 2020
Rhodium-ruthenium coating to increase the lifetime of mobile devices

Womag, Issue 12/2020, pp. 1-3 (Available only in German)

Wedding of the metals

MO, Issue 8-9/2020, pp. 44-45 (Available only in German)

Dark precious metal layer closes gap in the decorative market

Polysurfaces, Issue 02/2020, pp. 6-8 (Available only in German)

Dark-Coloured, Decorative Precious Metal Coatings with New Properties

IST, Issue 01/2020, p. 30
Book publications 2019
Silver-palladium layers as contact surface for electrical applications

Dr. Berger, Sascha / Talgner, Friedrich / Ziebart, Robert Yearbook Surface Technology, Vol 75, Edited by Prof. Dr. Timo Sörgel, Leuze-Verlag 2019, pp. 110 - 118 (Available only in German)
Technical reports on electroplating 2019
Dark precious metal layer has potential to close gap in the decorative market

Womag, Issue 11/2019, pp. 38-39 (Available only in German)

Dark decorative precious metal layers with new properties

JOT, Issue 11/2019, p. 48 (Available only in German)

Umicore Electroplating surprend avec son alliage sombre

Galvano-Organo, Issue 11/2019, pp. 30-31 (Available only in French)

More sustainability through platinized titanium anodes

JOT, Issue 9/2019, pp. 86-89 (Available only in German)

Use of lead anodes in hard chrome plating - what does the future look like?

Womag, Issue 06/2019, pp. 28-29 (Available only in German)
Technical reports on electroplating 2018
Rhodium surface with the allure of Platinum offers quality, attraction and cost efficiency

Womag, Issue 12/2018, pp. 34-35 (Available only in German)

Rhodium surface with the allure of Platinum

Polysurfaces, Issue 3/2018, pp. 6-7 (Available only in German)

Bright white Rhodium surfaces

JOT, Issue 10/2018, p. 104 (Available only in German)

Rhodium with the allure of Platinum

GZ Issue 9/2018, p. 86 (Available only in German)

Significantly more selective hard-gold processes due to inhibitor additives

Polysurfaces, Issue 2/2018, pp.12-13 (Available only in German)

New inhibitor saves gold

MO, Issue 5/2018, p. 43 (Available only in German)

High temperature electrolyse of Platinum - Success story of a special plating process

Engert, Thomas / Ebert, Thomas / Steinhilber, Gerhard
Galvanotechnik, Issue 4/2018, pp. 670-672 (Available only in German)

New inhibitor makes hard-gold processes more economical

JOT, Issue 4/2018, p. 148 (Available only in German)

Proven hard-gold process is significantly more selective due to inhibitor additives

Womag, Issue 3/2018, p.32 (Available only in German)

Inhibitor makes hard-gold processes more selective

Galvanotechnik, Issue 3/2018, pp. 472-474 (Available only in German)
Technical reports on electroplating 2017
The REACH Challenge - The EU has stipulated nickel-free consumer items

Wieser, Benjamin
Womag, Issue 5/2017, pp. 1-2 (Available only in German)

Umicore e la sfida REACH - L'UE ha precisato gli articoli di consumo nickel-free

Galvanotecnica e nuove finiture, Issue 3/2017, pp. 178-179 (Available only in Italian)

Heat-conductive photosensitive solder mask

Mack, Martin
PLUS, Issue 7/2017, pp. 1213-1215 (Available only in German)

EU is promoting nickel-free commodities

Galvanotechnik, Issue 7/2017, pp. 1360-1361 (Available only in German)

Nickel free coated without quality losses

Dr. Leyendecker, Klaus
JOT - Journal für Oberflächentechnik, Issue 7/2017, p. 36 (Available only in German)

With hybrid layers against corrosion

Produktion - Technik und Wirtschaft für die deutsche Industrie, Issue 7/2017, 15 February 2017, pp. 12-13 (www.produktion.de) (Available only in German)

Electrodeposited silver-palladium

F. Talgner (Umicore Galvanotechnik GmbH), M. Myers (TE Connectivity USA), Dr. Ing. H. Schmidt (TE Connectivity Germany)
Galvanotechnik, Issue 5/2017, pp. 910-917 (Available only in German)

Plugging with fullsurface, verticale backfilling

KSG Leiterplatten GmbH, Ms Dr. Weise / Mr Fiehler
PLUS, Issue 4/2017, pp. 675-676 (Available only in German)
Book publications 2016
New Post-Treatment Process with Enhanced Technical Performance: Corrosion Protection for Electrical Contacts

Dr. Nineva, Svetla / Dr. Berger, Sascha / Talgner, Friedrich
Yearbook Surface Technology, Vol 72, Edited by Professor Timo Sörgel, Leuze-Verlag 2016, pp. 52-59
Technical reports on electroplating 2016
Electronics permanently protected

MO - Magazin für Oberflächentechnik, Issue 11/2016, pp. 26-27 (Available only in German)

Umicore Electroplating highlights latest innovation

Stegmaier, Martin / Grimm, Joachim: Interview with "Jewellery News Asia"
JNA, Issue 10/2016, p. 39

Tarnish protection for electronic components: simple, fast, safe

Talgner, Friedrich / Ziebart, Robert
Womag, Issue 10/2016, pp. 1-2 (Available only in German)

Post-treatment in continuous plating lines - tarnish protection for electronic components

Talgner, Friedrich / Ziebart, Robert
JOT - Journal für Oberflächentechnik, Special "Combined Surfaces", May 2016, pp. 12-13 (Available only in German)

No progress without connectors

MO - Magazin für Oberflächentechnik, Issue 5/2016, pp. 15-17 (Available only in German)

Tarnish protection 4.0 - Next generation electronics manufacturing. Protective layer for electrical components improves technical properties

Ziebart, Robert / Talgner, Friedrich
Galvanotechnik, issue 4/2016, pp. 704-707 (Available only in German)

Comparison of total costs. Do platinum-titanium anodes pay off in hard chrome plating?

Ebert, Thomas / Friebel, Frank
JOT - Journal für Oberflächentechnik, Issue 3/2016, pp. 40-43 (Available only in German)

Nanoscale Sealing Produces Anti-Tarnish Advantages for Electronics

Ziebart, Robert
Products Finishing, Issue 03/2016, p. 54

Sandwich layers for better corrosion protection

Dr. Leyendecker, Klaus
Polysurfaces, Issue 1/2016, pp. 6-7 (Available only in German)

Sandwich coatings provide better corrosion protection

Dr. Leyendecker, Klaus
JOT - International Surface Technology, Issue 1/2016, pp. 38-39
Book publications 2015
Optimal sizing and construction of platinum-plated anodes for hard chrome plating

Ebert, Thomas / Friebel, Frank
Yearbook Surface Technology, Vol 71, Edited by Professor Timo Sörgel, Leuze-Verlag 2015, pp. 162-167 (Available only in German)

New silver-palladium electrolye for electrical contacts

Talgner, Friedrich / Manz, Uwe / Dr. Berger, Sascha / Weyhmüller, Bernd / Pfund, Alexander
Yearbook Surface Technology, Vol 71, Edited by Professor Timo Sörgel, Leuze-Verlag 2015, pp. 37 - 42 (Available only in German)
Technical reports on electroplating 2015
Optimisation of hard chrome coatings

Dr. Leyendecker, Klaus
Womag, Issue 12/2015, pp. 1-2 (Available only in German)

Umicore Electroplating excels in metal-plating industry

Stegmaier, Martin: Interview with "Jewellery News Asia"
JNA, Issue 10/2015, p. 40

Nickel-phosphorus plus hard chrome - sandwich layers for better corrosion protection

Dr. Leyendecker, Klaus
JOT- Journal für Oberflächentechnik, Special "Corrosion Protection", a supplement to the edition 10/2015, pp. 26-27 (Available only in German)

Hard chrome plating with platinum-titanium anodes - optimize processes and reduce waste volumes

Ebert, Thomas / Friebel, Frank
Womag, Issue 9/2015, pp. 1-4 (Available only in German)

Lead anodes in hard chrome process: When will Pt / Ti anodes pay off?

Ebert, Thomas / Friebel, Frank
Galvanotechnik, Issue 6/2015, pp. 1164-1168 (Available only in German)

Optimisation of hard chrome layers - sandwich layers for better corrosion protection

Dr. Leyendecker, Klaus
MO - Magazin für Oberflächentechnik, Issue 6/2015, pp. 48-49 (Available only in German)

Nickel-free end surfaces in the electronic industry

Gross, Andreas
Womag, Issue 3/2015, pp. 1-5 (Available only in German)

Determination method in surface technology - methodically layer properties characterize

Peters, Alexander
JOT - Journal für Oberflächentechnik, Issue 2/2015, pp. 20-21 (Available only in German)

Alternatives to lead anodes - dimensionally stable anodes used in hard chrome plating

Ebert, Thomas / Friebel, Frank
JOT - International Surface Technology, Issue 2/2015, pp. 50-51


Website content matching this page
Back to the Press Center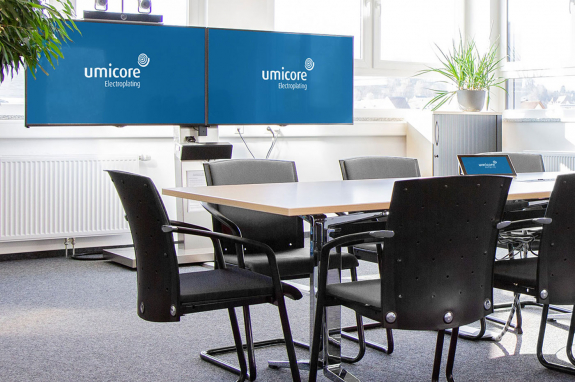 Back to the Press Center
Productfinder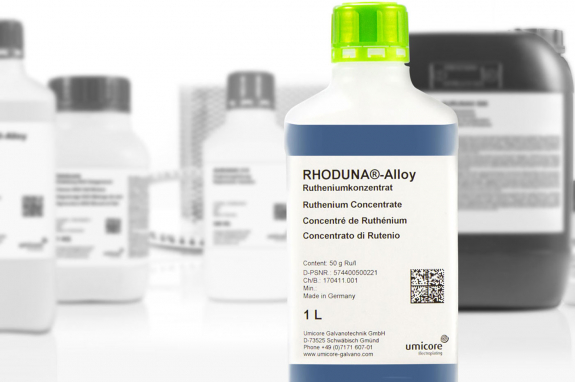 Productfinder
Our Trademarks
Our Trademarks